絵巻物マシーン

絵巻物および映像のための絵を、自己に流れている時間(=変化)の絵として描いているところがあります。それをフレーム毎に撮影することで、ビデオとしての映像をアニメーションのように見せています。だれかが絵巻物をその連続したイメージを、裸眼あるいはレンズ越しにテレビ石やテレビのモニタを通して像を結ぶのを観るとき、だれかの内側になにか空間的な想像の構造物として浮かび上がることを信じています。自分自身を活き活きと観ることができる装置道具なのです。これらの装置を絵巻を手で回して観るという意味を込めて絵巻物マシーンと呼んでいます。このマシーンはワークショップやパフォーマンスの場面で私を助けてくれる友人のような存在です。共に想像するかたちを変えながらあらわれる身体性のデヴァイスとして位置付けています。

Emakimono Machine, the Hand Scroll Viewer

I draw the picture scroll and drawing for animation at every frame as my own flow of time.
So I take a image of frame and make a video as animation and show them to the people.
I believe spatial image and something structure rise in somebody else's heart when somebody else watch the continuous images through a lens, "Television Stone" (Ulexite) and television monitor.These are the device that image forth oneself.
I call these device "Emakimono Machine", Hand Scroll Viewer.
And this machine is the existence like my friend that help me to give my performance at the scene of the workshop.
Emakimono Machine is the structure that image together where we should place it in the whole appear with constantly changing.
Emakimono Machine No.56, suitcase type for travel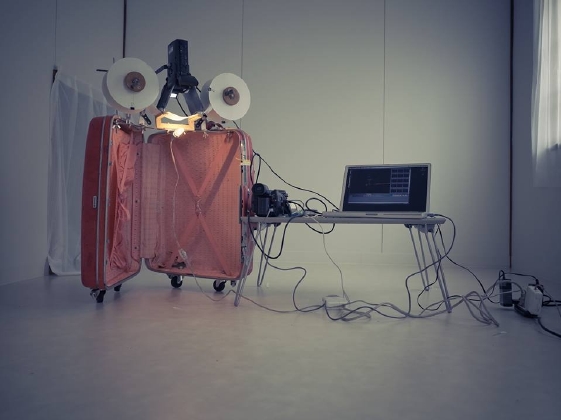 2016
Simizusawa Community Gate
Yubari City, Hokkaido
2016
Sapporo Tenjinyama Art Studio
Minami-hiragishi, Sapporo City, Hokkaido
2013
Compass
Naha City Wakasa Learning Center, Koto-do, Wakasa, Naha City, Okinawa
Emakimono Machine No.54, film can case type

2013
Kawasaki City Museum
Emakimono Machine No.53, "Tohmi" the chinese rotary fan winnowing machine type

2011
Tsuzuki Art Project 2011
Tsuzuki Private House Garden, Tsuzuki-ku, Yokohama
Emakimono Machine No.51, "Kiri-kabu" the stump type

2013
Kawasaki City Museum
2011
Tsuzuki Art Project 2011
Tsuzuki Private House Garden, Tsuzuki-ku, Yokohama
2011
NEXT 10
Tokyo Wonder Site Shibuya, Tokyo
Emakimono Machine No.38-42, mini television stone type

2008
KITA!!: Japanese Artists Meet Indonesia
Selasar Sunaryo Art Space, Bandung, Indonesia
The Japan Foundation
Emakimono Machine No.37, "The Life in Bandung" the chain, the crank and two wheel of the bicycle type

2008
KITA!!: Japanese Artists Meet Indonesia
Selasar Sunaryo Art Space, Bandung, Indonesia
The Japan Foundation
Emakimono Machine No.36, the old wooden school desk type

2007
Cafe Ambiente, Daikanyama, Tokyo
Emakimono Machine No.29, "The Telepathi-sion" top of the Tsu-Ten-Kaku Tower the basket of bicycle type with the tripod

2006
graf media gm, Naknoshima, Osaka / Setagaya Monodukuri Gakko/IID, Tokyo
Emakimono Machine No.30, "The Evening Hand Scroll Viewer" the prefabricated wooden type with big bobbin for electric code

2006
graf media gm, Naknoshima, Osaka / Setagaya Monodukuri Gakko/IID, Tokyo
photo by Masanori Ikeda
Emakimono Machine No.28, "The Chikara Pod" the wooden space rescue boat type

2005
Tokyo Wonder Site Shibuya, Tokyo
Emakimono Machine No.24, "The Televi-Kun 1" the helmet made of the cardboard box type with LED light

2005
Osaka City University Hospital, Osaka
Emakimono Machine No.23, "The Taxi" the wooden car type with cloth

2004
How far to utopia?
Rockwell, hackney downs, UK
Emakimono Machine No.20, "The Pink Heart Case" mini television stone type with small light

2003
Osaka City University Hospital, Osaka
Emakimono Machine No.19, the slide projector type

2003
Osaka City University Hospital, Osaka
Emakimono Machine No.6-11, mini television stone type

2003
Osaka City University Hospital, Osaka
Emakimono Machine No.1, the imitation ironing board type

2002
Watari-um Art Museum, Tokyo
2004
Old Konstfack, Stockholm, Sweden